Day 108.
I have found the
best
Organic, Raw Coconut Butter I have ever had in my
entire
life!
They say that M&M's "melt in your mouth, not in your hand." Here is the
perfectly perfect "perfectness"
way of doing this in an Organic, healthy way!
This delicacy is called Artisana Raw Organic Goji Bliss. The ingredients are as follows:
Artisana™ Organic Raw Coconut Butter

Organic Raw Coconut Oil

Organic Raw Goji Berries

Organic Raw Agave Syrup
What could be better than those 4 ingredients? I have been craving something "sweet" this week. I don't have any dessert that I can have in our house. I never keep it; it would be too tempting! So, I got the great idea that I was going to get me some rice cakes and unsalted, raw cashew or pecan spread. When I got to
Whole Foods
, though, and was looking at their wide variety of Organic, Raw butters, I came across this one. And naturally, when the Coconut Butter was the 1st ingredient, I knew I had to have that one.
After I ate my dinner last night I decided to have just a 1/2 Tbsp of it. The jar specifically says that it's best to warm it up and spread it over fruit, bread, cake, etc. You can also add it to smoothies. Basically, you can do whatever with it. I decided to just eat it as it was; straight out of the jar, in a 1/2 Tbsp measuring spoon.
UNBELIEVABLE. When it hits your mouth, it melts. It's got a coconut flavor, with a hint of "buttery fat" meets "sweet." I decided to not even put it on my rice cake. I am so glad I didn't. I was able to take in the full flavor of it. I savored every second of it!
I am 150% endorsing this product! It's
not
cheap...this is not your $2.99 jar of Skippy Peanut Butter. But the nutritional benefits, full-flavor and satisfying component to it make it absolutely worth it.
You can find this at
Whole Foods
. You can also find it
HERE
from a variety of sources via the Premier Organics website.
Premier Organics
is located in Berkeley, CA.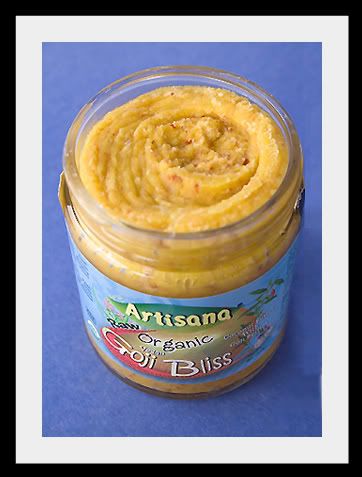 I was a little more tired today. My mouth started to annoy me later afternoon. It was about a 5/6 today. I got bloated late afternoon. My stomach made a lot of funny noises. I got sick around 5pm and then the bloat/twisted began up again. My right eye still twitching a little.
Here was my day:
Breakfast
1/4 Fruit Fusion
Steel Cut Oats + Nutribiotic Vanilla Rice Protein + Stevia/Cinnamon

Snack
Lunch
1/2 c. Quinoa mixed with XLean Turkey + paprika
Spinach + Sea Salt/Pepper + ACV

Snack
1/2 c. Quinoa mixed with XLean Turkey + paprika
Spinach + Sea Salt/Pepper
Orange

Snack
Wild Salmon Burger

Organic Apple

Dinner
Tuna + Romaine Lettuce + (Steamed) Spinach & Garlic
+ Balsamic/Sea Salt/Spirulina

Watermelon
Rice Cakes + Artisana Raw Organic Goji Bliss
Carbs, carbs, carbs, carbs....I'll talk more about these next time. Stay posted because Leah has me starting the GAPS (Gut and Psychology Syndrome) Diet. I will probably be starting on Monday. I am mentally preparing until then; making food, researching and accepting this
very limited carb
method to healing via eating.