Day 86.
I made the most wonderful smoothie today. I call it my Banana/Coconut-Hemp Smoothie. Here were the ingredients:
1 Tbsp Trader Joe's Vanilla Hemp Protein Powder
About 1/2 Tbsp Coconut flakes
1 packet Stevia
1/2 Banana
Water + ice
It's such a quick and easy "re-fueling" food, too. I had it before my night workout. This hemp protein powder is from Trader Joe's. In 2 Tbsp there are 11 g/fiber! There are barely any ingredients in the hemp powder, so I find it to be the
only
protein powder I will put into my body. This is what the powder looks like: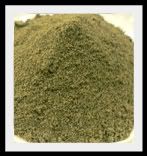 Light, fluffy and green. Don't be afraid of the color! For more information on Hemp, click
HERE
.
I felt pretty good today. I had good energy! My mouth would go in-and-out of being annoyed. It went from a 2/3 to a 6/ today. Odd! My stomach was bloated for a few hours in the early evening. It hurt some to run. Just twisted, that's all. Breathe.....
Here was my day:
Breakfast
#1
(Pre-workout)
Breakfast
(Post-workout)
Steel Cut Oats + Unsweetened Rice Milk+ Nutribiotic Vanilla Rice Protein Powder
1/2 Chicken Apple Link

Snack
Nutribiotic Vanilla Rice Protein Powder with Unsweetened Rice Milk, Coconut Milk Light, Flax, Banana and Stevia

Lunch
(Steamed) Spinach + garlic

1/2 c. Quinoa mixed with Lean Turkey and ACV
1/4 Fruit Fusion

Snack
(pre-workout)
Banana/Coconut-Hemp Smoothie

Dinner
1/2 Chicken Apple Link

1 c. unsweetened applesauce
Spinach + Spirulina
Organic Apricot
I hope you made it a beautiful day today! If not, make tomorrow one!