Day 81.
I have broken my "food-rut," even if for just one meal. Leah gave to me half of the idea. I provided myself with the other half.
It's my own soup. A simple soup. I'll just call it Sarah Kay Hoffman's Simple Soup. Here are the ingredients:
(Steamed) Cucumber, yellow tie squash, carrots, zucchini

Organic, Low Sodium Chicken Broth
Quinoa
Lean turkey meat + onion
Pinch of sea salt + a pinch of cayenne pepper

That's all. (It looks a little crazy, but it tastes so great!)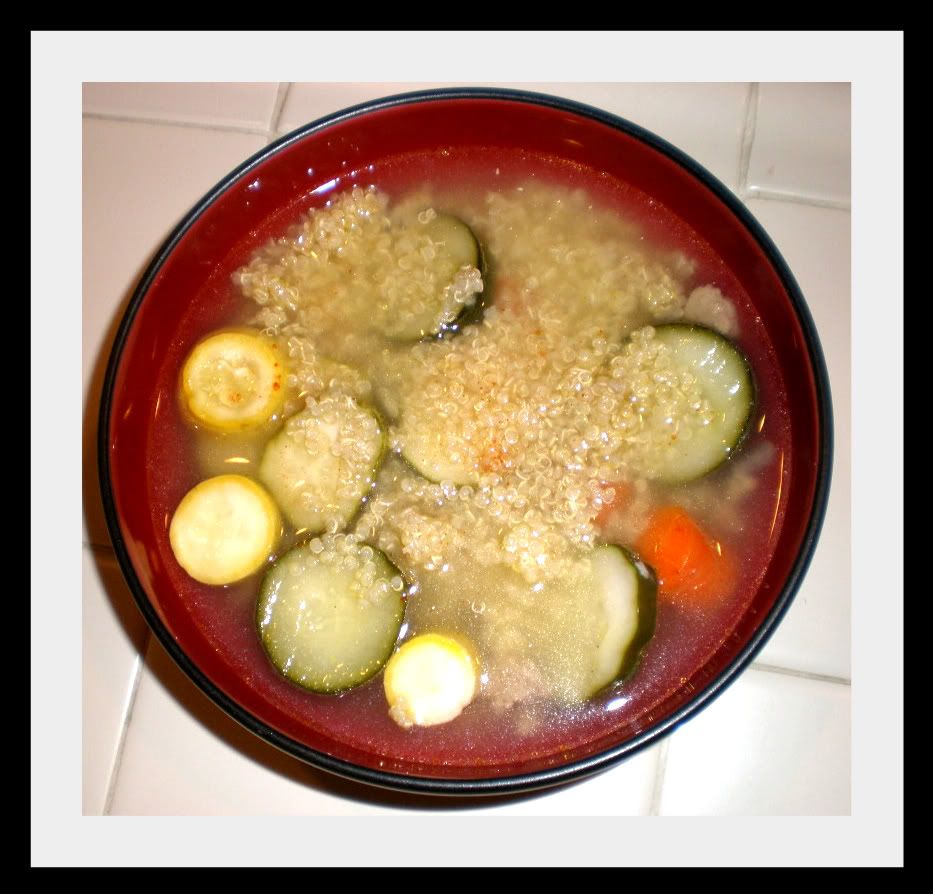 My stomach was not very good again today. Tonight it was definitely not good. It felt like it was rotting. It felt like it used to when I ate a lot of dairy. My mouth was also not pleasant again today. It increased throughout the day to arrive at a 6/7 or 7/8. I had to shift my attention several times throughout the day today to make me think only positive thoughts. It worked!
Here was my day:
Breakfast
#1
(Pre-workout)
1/4 Fruit Fusion
Tiny Coffee + Unsweetened Rice Milk


Breakfast
(Post-workout)
Rice & Shine + Unsweetened Rice Milk+ Nutribiotic Vanilla Rice Protein Powder
1/4 Fruit Fusion

1/2 c. coffee + unsweetened rice milk + stevia

Snack
Nutribiotic Vanilla Rice Protein Powder with Unsweetened Rice Milk, Coconut Milk Light, Flax, chlorella and Stevia
Lunch
(Steamed) Carrots, squash, zucchini, cucumber, spinach + garlic

(tiny) Baby Organic Spinach
1/2 Fruit Fusion
Green Tea

Snack
Banana
Pineapple, honeydew melon, cantaloupe, strawberry

Dinner
(Steamed) Carrots, squash, zucchini, cucumber, spinach + garlic

Fish oil + spirulina + 1 Tbsp flax a little sea salt
Sarah Kay Hoffman's Simple Soup.

1/2 c. unsweetened applesauce