Today began my 3rd week of P90X! Today is also Day 16 with me sticking to my strict GAPS Diet.
How do I feel?
AMAZING!
I did the Chest/Back + Ab Ripper X Workout today. This is my third time doing it and I can honestly say that it still absolutely kills me (in a good way of course)! I shake so much by the end of it, with my muscles capped out in fatigue. I try to do at least one more rep than the previous week. And this is usually all I can do! I feel stronger and in better shape, but P90X reminds me daily that I have a long, long way to go!
My stomach, mouth and all "those" problems have been nil yesterday and today! It is always that way almost exactly 2 weeks (to the day) after I start eating only the foods I'm supposed to eat. It is the oddest and most bizarre thing, but it's like clock work. People wonder why I hate to stray so much from my diet - that is why. Two weeks is a long time to deal for one "sinful meal."
I suspected Tuna this week, though, of making me instantly bloated. I had it for lunch 2 days in a row. Both days I was in a lot of left-sided pain immediately. No Tuna for a few days. I will try it again and see if it is indeed a culprit.
One food I have been eating that has been sitting perfectly fine with me is the Mango. In California we are so blessed with the amazing, year-round fruit.

It's like candy.

I ate a whole one yesterday and today! I am fairly certain I may turn into Mrs. Mango Head.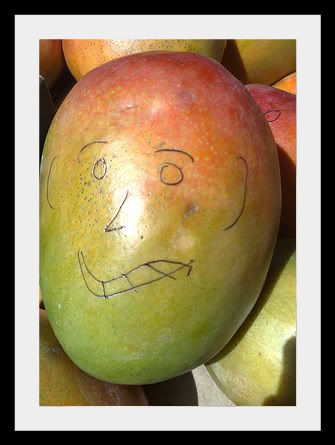 I am not too worried about becomming her, though, because the Mango is so good for you! Did you know that...
Mangoes are high in Vitamin C, Vitamin B6, Potassium, Copper and Vitamin A?
One whole, peeled mango only has approximately 135 calories?
Mangoes are High in fiber and are virtually fat-free?
Find out all this an more by clicking HERE. And then go get yourself a delicious mango!
In final Saturday news...I am working on building my own website via a Blogging Platform. I am so excited for this new one! It will definitely have a different "edge" than this one: A "professional," Social Media, Branding and Marketing "edge." Stay tuned!

And as always....Cheers!