Day 40.
At 5pm today I was
home sweet home
until next Tuesday, as Monday is Memorial Day! I am so excited about this! It's been a stressful, very stressful week.
As promised from yesterday,
reflections
on the quote by Anne Frank,
"Our very lives are fashioned by choice.
First we make choices.
Then our choices make us."
First of all, I think we can all agree that Anne Frank was wise, much wiser, beyond her years! Here were my thoughts pertaining to her quote:
As a noun. Synonyms: selection, preference, alternative, election, substitute, favorite, pick, a good bet.
We make a million

initial

choices every single day. (Should I hit the snooze button? What should I eat for breakfast? What should I wear?)
We make many

big

choices in life. (Should I marry him? Should I stick with my job? Should I have a baby? Should I go to college?)
EVERY choice we make is like a fork in the road: the direction you go next is up to the choice you've made.
It's like a "Gertrude Stein," (A rose is a rose is a rose.)- "A choice is a choice is a choice."
And after I looked those over, I realized just how important choices really are! And for me, the "small choice" of
"What should I have for breakfast?"
is just as important as a "bigger choice" of "
Should I stick with my job?"
I think this is where my merged-life gets tricky for me somedays.
Ultimately, though, as Ms. Frank said, "
I
need to make these choices,
but
I
also need to keep in mind that these choices I make will make
me."
I've had a very stressful week. And yes, it's made me sick. But as I was coming home from work tonight I called my mama, who lives across the country from me! It was a breath of fresh air for me. For that whole 30 minutes I was calm and relaxed and was able to think about something else. I, of course, vented to her. But being that my Mother is probably my Number One fan, she put everything into perspective for me and, as usual,
took my side
! Mother's are so great! And interestingly enough, during that 30 minutes, my mouth was OK. I could talk to her with no problems. Thanks, Mom!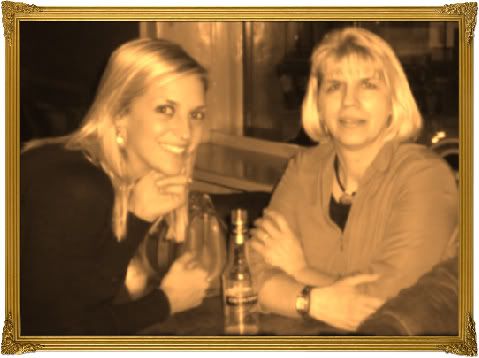 As I mentioned, I haven't been feeling too hot. Today my mouth and teeth annoyed me again, at about a Level 8/9. Frustrating! My stomach felt a little bloated late afternoon, and then moved into a little left-sided pain after that. I got "sick" around 7pm. Then, my stomach was ok again.I have a cold now, too. Some say it could be allergies, but I've never had allergies from the environment, so I'm not so sure about that one!


Here was my day:

Breakfast
Steel Cut Oats

Nutribiotic Vanilla Rice Protein Powder with Coconut Milk Light, Flax, and Stevia
Snack
Organic Apple

Sweet Apple Link

Lunch

Sweet Apple Link
Lean Turkey + Kidney Beans

Olive Oil

Spring Mix
Snack
Fruit Fusion (Dried Apple + Dried Cranberry Only)

Organic, Raw Carrots

Dinner
Organic Spinach
Fish Oil + Spirulina + Sea Salt
Chile Lime Chicken Burger

1 Glass Red Wine
Orange

In other news, our Baby Great Dane is doing better today! She finally ate and drank water. She can walk up our steps, so she'll get to sleep in her crate by us tonight! Now
that's
a
zen
night for us!