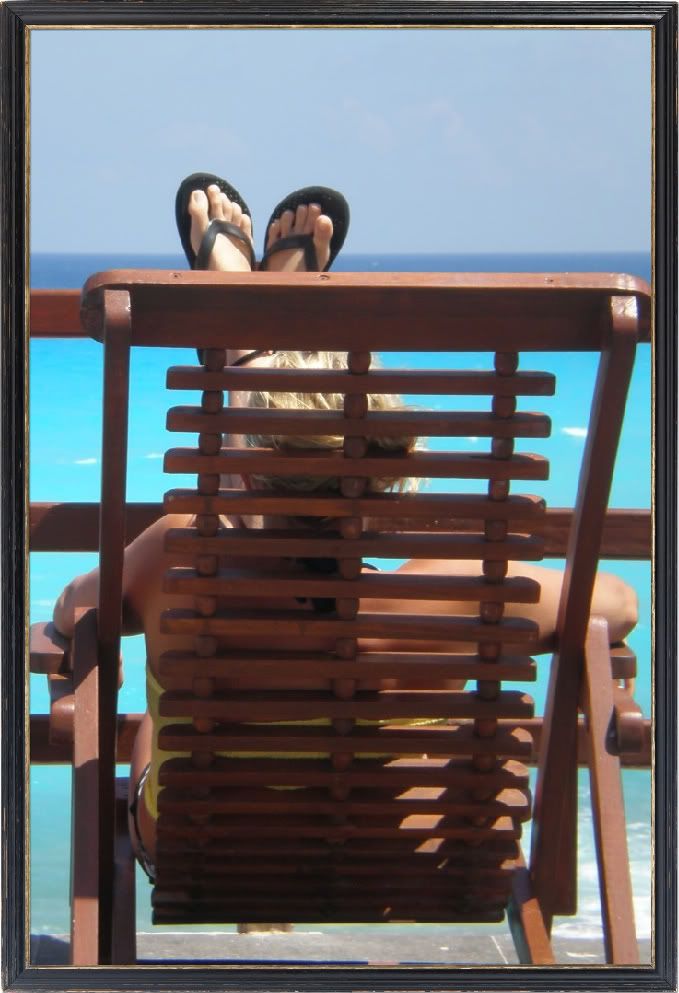 "Technically" Day 35.
Welcome back to me! Today is Sunday, May 17, 2009. We got back to California late last night. Can I just say this about our Honeymoon in Cancun, Mexico - WOW!
We spent an entire week in bliss. Pure bliss. Life was so relaxing and beautiful.
While on vacation in Mexico, I learned some things. 2 things were from the book, "Eat, Pray, Love" that I'm reading. The others were miscellaneous:
The writer, Liz Gilbert, is at an Ashram. She is spending months in solitude and practicing meditation and yoga. She is forced to chant the

Gurugita

, which she

hates.

She wants to quit chanting it altogether, but knows that it's probably an important element to her "being" at the Ashram. She asks for advice on it. This is what she's told, "You have to decide for yourself. But my advice-since you asked-is that you stick to chanting the

Gurugita

while you're here,

especially

because you're having such an extreme reaction to it. If something is rubbing so hard against you, you can be sure it's working on you. This is what the

Gurugita

does. It burns away the ego, turns you into pure ash."

(Eat, Pray, Love)
This really hit home for me. When I read this, all I could think about was my body when it's in detox-mode. I get sick. Nothing is very pleasant. The reaction I have is so extreme. It's almost like a nightmare. While reading this, though, I wondered if
that
reaction is actually
good
for me? This awful reaction that Liz faced chanting the
Gurugita
ended up great for her. I began to think that perhaps this is the same with food detoxification.
I'll say it here. I'm guessing I'll discuss it much more.
I felt fine in Mexico!
Starting on Saturday, May 9
th
up until late last night, I ate, drank and did anything I wanted! I
never
worried about what I was eating or drinking (how could I, really?) and I didn't even allow myself to be consumed with extensive note-taking or working out or
anything.
I was just simply living. I did
not
let living simply get into my way, at all - ever - for the entire week.
I had no mouth problems. I rarely had a stomach problem, maybe a couple of (small) instances. It was like a miracle. I would
really
like to be able to analyze this. I would love to know what happened (or lack thereof for that matter) but I'm chalking it up to 2 things:
1. For 25 days before I took care of
me!
And probably more importantly....
2. For an entire week I was completely, utterly, 100% stress-free. I took care of
me
, but in a way that I was not doing before.
I have learned that I need to manage stress. I need to study it, learn it and be it. I need to figure out my triggers - what drives me
all the way to STRESS, STRESS and more STRESS.
And when I figure it out or figure out the sum of all it's parts, I'm going to FIRE it (or them) from my life.
My health is more important to me than anything that brings me stress. I am worth it.
Traveling is so important. Traveling opens your eyes to many new ideas. It allows you to see that there is more to life than California, to the United States, to Mountain House, etc. There are so many beautiful places in the world. So much to do. So much to see.
Ryan and I both agree that we would rather have less, in terms of material things and possessions and be able to travel. The best thing about it, too, is that we get to see and enjoy and love and fall in love all over again -
together
.
I can't wait until our next trip!
We always wondered the time. "What time is it?" "How much time until...?" "What time does this open?" "Is it too early for a drink?" But finding those answers out was always so challenging, and not because they were tough to answer, but because
there were no clocks!
There was not a clock in our room. There were no clocks in the restaurants or at the pool or in the lobby. There just simply were
no clocks
. This drove us crazy. Of course it did, we are from the United States. We are always on such a tight schedule. Time drives us. Clocks keep us accountable.
After a few days, though, I liked not knowing what time is was. I could go several hours without knowing the time. It was amazing to be lounging around, sliding in and out of the pool, lounging around more and then thinking, "Wow - I have
no idea
what time it is!"
"The

Bhagavad

Gita

- that ancient Indian Yogic text - says that it is better to live your own destiny imperfectly than to live an imitation of somebody

else's

life with

perfection

."

(Eat, Pray, Love)
I have been thinking so much about this line. Simultaneously, almost, I have been reading
Inner Architect
by
Susan Hanshaw
(
inner architect
). As a matter of fact, I read it 2 times while on vacation! (I would highly,
highly
recommend this book!) Susan's book allows you to really search within yourself. It allows you to use your creative side and it actually gets you very excited about a life
you can design
if you have the motivation and a positive attitude as your foundation.
(I digress..) What Susan does is pulls you out of your "comfort element" and places you into an element that allows you to see the
you
that
you
can actually be! And this is exactly what the Bhagavad Gita was saying as well. Choose what and who you want to become. Choose what you want to do with your life. Don't worry about what someone else may think. Don't take everything so seriously looking for perfection. Create your own path, even if it is imperfect. It's yours. Own it. Live it. Be it. Love it.
I Married the Most Wonderful Man on Earth!
I truly did! Ryan is and always has been such an amazing person to me. He is patient, kind and caring. He is intelligent and loves life as much as I do. He makes me happy in the most unlikely places and at the most unlikely times. He makes me laugh. His laugh is contagious. I fall in love with him
every single day
...again and again and yet again, in some new way, shape or form.
I am so blessed!
Thank God for Whole Foods Again!
Clearly there was no Whole Foods in sight. I am excited to treat my body well again via food and working out! I'm ready to go back to detox-mode.
I'm ready for Phase 2 of my healing process. I met with Leah the Friday before I left and I'm re-energized! She gave me a lot of great new stuff, which I will share throughout this upcoming week. (Speaking of Leah, she is starting a Summer 21-Day Detox on Monday, June 8th. I
highly
recommend it for anyone living in the Bay area. Click
here
for all the information!)
Tomorrow is Day 36. Back to work. Back to living without any and all of the foods that make me sick. Back to re-energizing myself through food and fitness. Back to health. And for most people this looks like, "Back to blah. Back to negative." For me, with my new-found energy, enthusiasm, positive outlook and zen, this looks like...
"Living my own destiny imperfectly and not living an imitation of somebody
else's
life pefectly
."