Welcome to Day 1!
I woke up with a great attitude today, since I must keep reminding myself of all the
benefits
and possible
outcomes
vs. dwelling on "what I cannot have!"
And then tonight during my workout, I was reminded just
why
I am doing this. My stomach started to hurt so badly - I think the weekend's worth of food has caught up with me! I am so happy to be starting all of this!
When it comes to food, I tend to be a little more
boring
at times than I would like. Most people out there would find
any
delicious
,
delectable
and
divine
food replacement possible. That way, the whole "process" would seem so much less daunting. Not me - I've just been trying to stick with the basics. Most great and "funky" products like that out there just won't cut it for me.
Even if
they don't have one of the 22 foods I'm not able to tolerate, chances are they have some other chemical or pesticide or additive that I'm not willing to waste time on with researching! Thus, my food for today is somewhat boring!
Here was my day (make note - I eat
several
meals throughout the day - always have and always will):
Breakfast
Organic Apple
Organic Steel Cut Oats
Organic, Unsweetened Rice Milk with 1 packet of Stevia
Snack

Organic Carrots
Organic Baby Food - Winter Squash
Lunch

Organic spinach and zucchini

Lettuce & purple cabbage
Organic, no salt added Black Beans
Homemade Dressing (Olive Oil + Braggs Organic Apple Cider Vinegar + a pinch of Cinnamon)
Snack - Pre-Workout

Nutribiotic Vanilla Rice Protein Powder with Unsweetened Rice Milk, Spirulina, Fish Oil and Stevia
Snack - Post-Workout
Dinner

Wild Salmon Burger
Salad with Homemade Dressing from earlier
Dried Bananas
I have a great appreciation for my new "homemade" dressing that Leah gave to me. (Leah is my Nutritionist - a fabulous one at that!) I never would have thought that Apple Cider Vinegar could be good with anything, but it is wonderful when you combine it with Olive Oil and just a pinch or two of cinnamon. The parts I use are:
1 Tbsp Olive Oil
1 Tbsp Braggs Organic Apple Cider Vinegar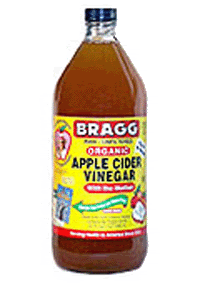 Go out, get yourself some Braggs Organic Apple Cider Vinegar, Olive Oil and Cinnamon and you can kiss away the days of chemical-filled, overly-processed, pre-packaged salad dressings!
Cheers to Day 1!