I have lived the past few years (and moreso this past year) on these 3 items:
1. Azumaya Tofu - Light, Extra Firm
2. Barista's (in Tracy, CA) Soy Latte
3. Trader Joe's Nonfat, Plain Greek Yogurt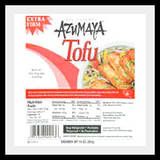 These will soon become - "(Were) a few of my favorite things."
I took this last day, Easter Sunday, April 12th to
really
let it sink in. I let it sink in and I ate
everything
and
anything
I wanted! I probably had more calories today and calories from junk food in general than I have in the past few days combined!
I think I'm excited for this new journey, but I must admit that I'm a little apprehensive at the same time. I truly don't know what I'm going to eat without becoming bored. But I guess that's where my creativity will come into play.
I went grocery shopping this afternoon. It was such a struggle. I almost started to cry. I'm scared now for sure. Will the pleasure of eating be gone? Will I be super hungry all the time? Will I lose muscle because my protein sources are limited? Will I go insane trying to be so careful?
All of these questions and thoughts. But then I step back and remind myself that I'm going to feel better. I'm going to look better. And because I look and feel better, I will hopefully become a better person because of it!
Tomorrow starts Day 1.....the beginning of my journey towards zen through health. The beginning of - Cutting the Ingredients. Clearing the Clutter. Simple. Zen.