Day 65.
I took an Epsom Salt bath on Sunday night. It was great for me - and a cheap way to detox. Simply go to Target, in the Pharmacy section. You will see a carton that looks like this: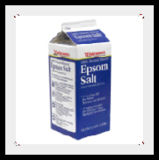 It will cost you all of $2.99. Take it home and make yourself you a warm bath and soak in the Epsom Salt. You can click
here
to see the
Amazing Health Benefits of Epsom Salt Baths
.
For an added bonus, sip a cup of tea while you are enjoying the bath. Since my stomach was at its worst then, I also gently massaged my stomach. The combination of all 3 things did wonders for me!
I shared these things, and many others, with one of my favorite people in the world yesterday. She sent me a text today and said, "I'm drinking your tea right now and have started my day in zen." She ended with, "I miss your guts." She
made my day
. Just her random text put a permanent smile on my face, (well until I got to work anyways!) and she reminded me of
why
I stay strong in mind! There is
nothing
like sharing information to make someone's day and to help them through their own "tummy" problems.
So to "her" out there (you
know
who you are) - (From 100 Simple Secrets) "Think of the happy times you, your family, and friends have had together. Recalling happiness of the past has the powerful ability to bring us happiness in the present." Until I see you again - All My California Love to You. Oh, and I miss your intestines."
I had a great weekend! My stomach started to get better on Sunday. Today was a great day. Only slight irritation. I am also happy to report that Saturday, Sunday, Monday and today were all about 0-2/3 levels for my mouth. It's so amazing. I can't think of it enough! (Make note: I did not work any of those days, except today! Hmmmm....)
Here was my day:

Breakfast
Nutribiotic Vanilla Rice Protein Powder with Unsweetened Rice Milk, Coconut Milk Light, Flax, and Stevia
1/2 Fruit Fusion Bar (Dried Apple and Cranberry)
Coffee + Unsweetened Rice Milk, Coconut Milk Light
Yogi Green Pomegrante Tea

Snack
Organic Apple
Organic Raw Carrots
Lunch
Wild Salmon Burger

Squash (steamed) + sea salt

Baby Scallops + Ancient Harvest Pasta

White Peach

Pre-Workout
Baby Scallops + Ancient Harvest Pasta
Chile Lime Chicken Burger
Post-Workout
Dinner
Squash (steamed) + sea salt + fish oil + spirulina

1/2 c. grilled chicken

Unsweetened Applesauce