Day 54.
I have discovered a new green tea that I'm in love with! I'm guessing it probably isn't actually "new," but I just recently discovered it. (Side note: One thing I always try to do when I get food, is to find a product I've never tried before. This way, I can instantaneously make things "fresh" and keep myself from getting bored.)
Organic Cranberry Green Tea
.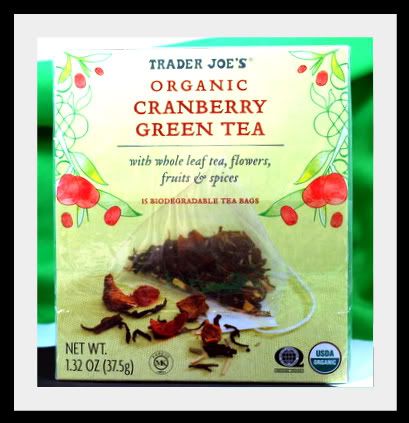 And what makes it so special? Many things! From the moment you open the box, you get a whiff of a tropical/herbal scent. It smells fruity and yet relaxing. You can't help but want to make a cup for yourself. Here are the actual ingredients:

O
rganic whole leaf green tea, organic hibiscus flowers, organic flavors, organic cardamom seed, organic lemongrass, organic cinnamon bark, organic apple pieces, organic star anise, organic rosehips, organic clove, organic cranberries, natural flavors
The great thing about these ingredients for me is that even though there are so many ingredients, they are all things I can have. Additionally, many of the ingredients are great "healing" ingredients.
Once you've opened the box, smelled the mixed aromas and read the ingredients you will be ready to brew your tea.
I got a cup out, heated my water and took the tea bag out of holder. And then I found the next
greatest
thing about this tea - a
Pyramidal Tea Bag
, which is biodegradable. Besides the fact that I love this creative pyramid shape, (an element which
clearly
adds to the flavor!) the pyramid will reduce or eliminate the presence of tea "dust" in the bottom of my cup. I've always hated that "crummy" last sip!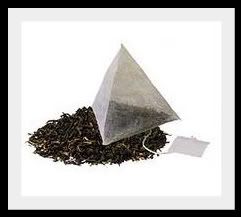 I place my tea bag in my cup of hot water. Immediately, like when a marshmallow melts into hot chocolate, a beautiful purple/pink/redd-ish color makes a cloud-like appearance in the water. The steam rises and you get a "flavorful energy" all around you.
For $3.99 you get 15 bags. All of the ingredients are organic. There are no calories.
Green Tea
is great for us!
So what are you waiting for? Get to
Trader Joe's
and get yourself some Organic Cranberry Green Tea!
It's 3pm and I'm signing off for the day! We are headed to Eric Church tonight; can't hardly wait!
So far today, mouth about a 1/2 only! Stomach a little upset in the morning only. My stomach was ok after lunch today? I have eaten a little differently today. My energy is fabulous. I feel fabulous today! So....up until this point today, here's what I've eaten:

Breakfast
1.5 Fruit Fusion Bar (Dried Apple and Cranberry)
Small Peets Coffee + 1/4 c. coconut milk light + stevia

The Tea (of course!)

Lunch
Scallop Pasta

Spinach, Cucumber, Garlic & Mexican Gray Squash (all steamed)
So far, so good...signing off & Happy Friday:)